THYME's facilities
PREMISES
THYME, a 100-year-old traditional Japanese house, was renovated and reborn as a modern lodging facility.
What could be preserved, such as the tiled roof, large beams, and exterior walls, was retained, while the interior was renovated to make it comfortable to stay in.
Entering the double-door entrance, you'll find modern arts exhibited open atrium space.
The sunken hearth space on the first floor and the bathroom on the second floor have wide horizontal windows through which guests can enjoy beautiful scenary of mountains in Miyama changing their colors from season to season.
The wooden deck terrace overlooking THYME's herb garden is a great space to enjoy BBQ and star watching.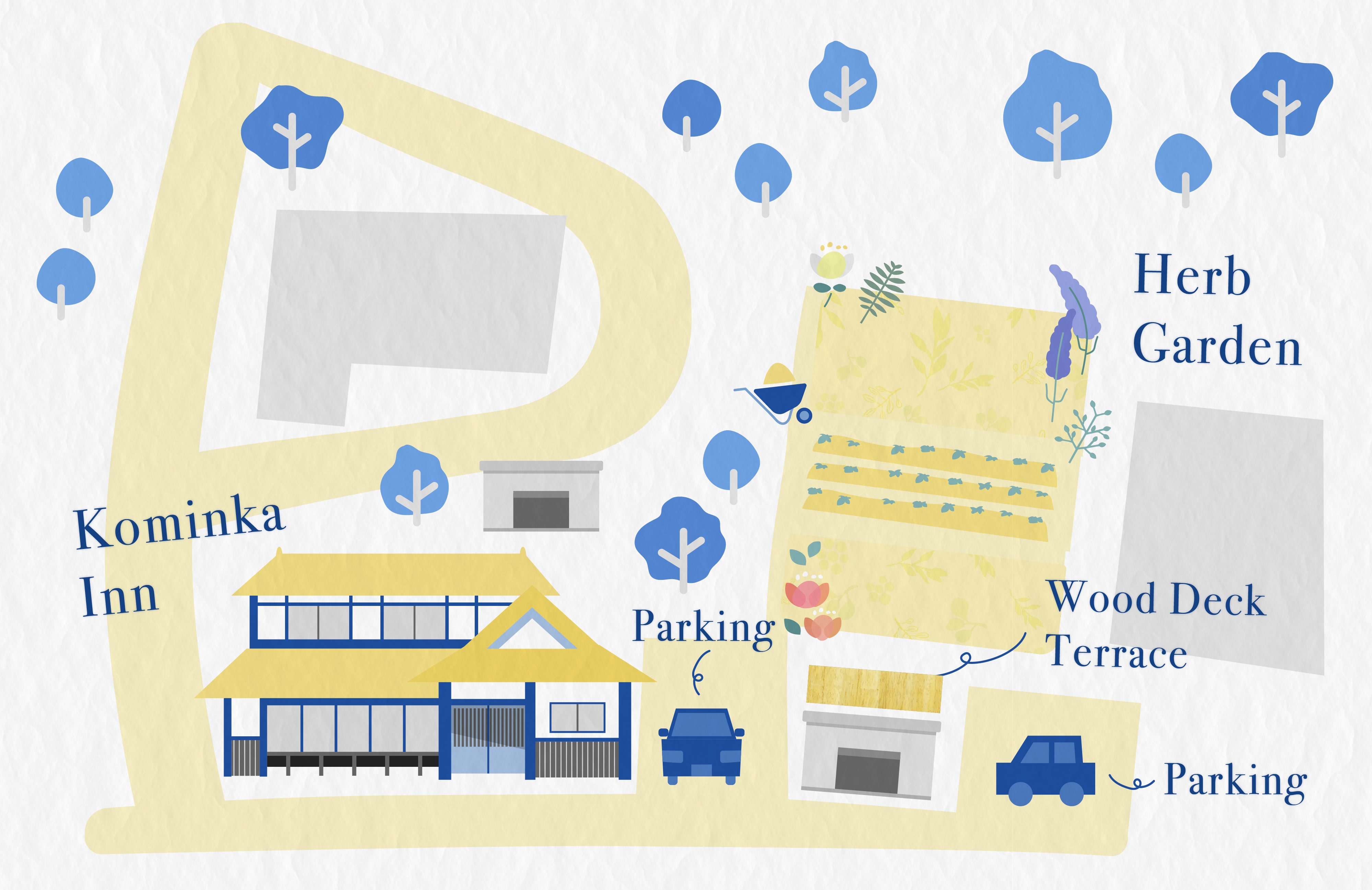 Various experiences that can only be had at THYME.
Please accumulate your own unique time that you can only experience here!
FACILITIES & AMENITIES

facilities・amenities
free-parking space

There are 2 light and ordinary cars and 1 large van parking space.

air conditioner

Two on the first floor and one in each bedroom on the second floor. You can spend comfortably even on a hot day or a cold snowy day.

free-Wi-fi

High-speed internet is also available in the accommodation building and the wooden deck terrace. You can watch videos, video conferences, etc. without stress.

kitchen

In addition to basic cooking utensils such as refrigerators, rice cookers, toasters, pots, frying pans and kettles, we also have cutlery and basic seasonings.

projector & screen

You can enjoy your favorite movies and videos on the large 100-inch screen. Of course, it can also be used for business.

white board

Please use it for worcation and off-site meetings.

bath

The large windows of the cypress bath on the 2nd floor overlook the beautiful mountains of Miyama. Feel like a forest bath surrounded by the scent of cypress, which has an outstanding relaxing effect.

BBQ

The BBQ stove is a grill type with a lid made by Weber. You can thoroughly enjoy the taste of Miyama's game, local chicken, clean water and vegetables grown in abundant land.

hearth

Since it is a digging type, you can relax around the old-fashioned hearth in a comfortable position. You can also enjoy grilled sweetfish and amago with salt.

wood deck terrace

You can enjoy tea time and BBQ slowly while looking at the beautiful scenery of Miyama mountains and countryside, and the newborn herb garden.

draft beer server

We have a permanent draft beer server that is irresistible for beer lovers. If you make a reservation, you can enjoy draft beer on your own (additional charge).

smoking-area

Smoking is prohibited inside the facility, but there is a smoking space outside. Please speak to the staff of the facility when using.
amenity
bathroom

body soap, shampoo, conditioner
changing room

body towel, face towel, bath towel, scale, Toothbrush & Toothpaste , cotton, cotton swab, hairbrush, hair tie, shaver, hair dryer, lotion (additive-free, weakly acidic), milky lotion, body lotion, hair essence
※ Please note no pajamas or yukata is provided.